Season Schedule
The seasonal races are classified into "Season A" and "Season B", and Season A & B are exchange in rotation. Each of the Season has its own characteristics, and includes "INT" & "Derby".The Eligibility for the two races are different. Please refer to the description below for details.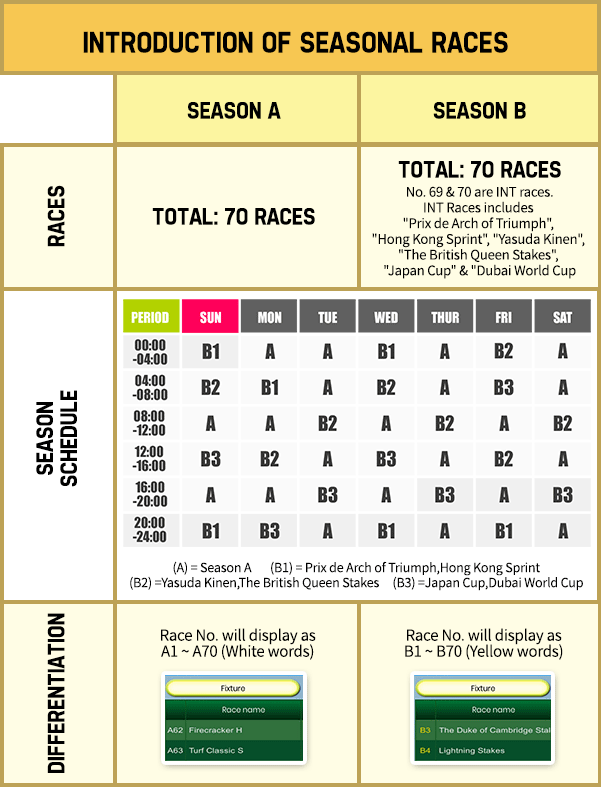 Eligibility for Derby Races
The quota of each Derby races is limited. The eligibility will be based on the performance of the horse in a "Same Season". For example, A-17 Hong Kong Derby, the number of places for the race is 14. If more than 14 horses are nominated to the races, and only the top 14 horses with the best result can participate in A-17.
Before the A-17 race, Owner must participate in different races in the Same Season to accumulate the Horse result. If the horse result are not in the same season, then that result will not be counted.
Eligibility for INT races
The INT races is based on the result of Owner in the entire season B to determine whether to qualify. If the scores are the same, then will calculate the total accumulated number of G1 has won. If the G1 are the same, then it will move on to calculate number of G2 races has won, and so on. Before participate in INT, be aware that there are different condition in different INT races.